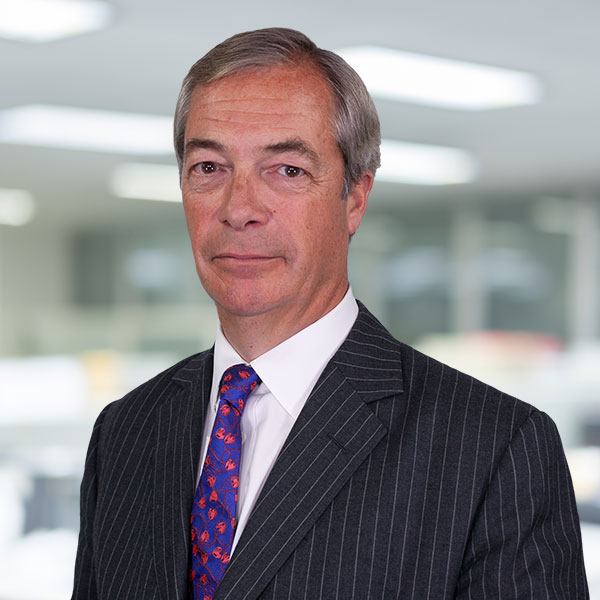 Nigel Farage Founder,Fortune & Freedom
I won't be silenced about this. It's too important.
And too many people here in Britain need to see the truth.
I've spent almost 30 years campaigning for our political independence.
And we won.
But there is another powerful institution we need to free ourselves from…
I'm talking about the financial industry.
Simply put:
Your money is in the hands of someone else…
And that is very dangerous.
Because it means you could be heading for a very disappointing future.
I'm going to show you how to make your own financial decisions – and not to rely entirely on people who may not have only your best interests at heart, in the long run.
The stakes could not be higher.
If you don't take action now, you could look back, when it's too late, and really regret it.
I know it can sometimes be comforting to be part of a crowd.
But I wouldn't want to be one of the millions of honest, hardworking Britons blindly walking into a huge financial disappointment.
I've spent thousands of hours talking to the man on the street.
And I know they're not happy having their destinies in the hands of someone else.
It's time to think for yourself when it comes to your money.
Ask yourself…
What are the real opportunities to grow your money here in Britain?
How will Britain's new role in the world play out and how will it affect the value of your home and your stockmarket investments?
Is there really a financial crisis brewing – and how can you take steps to help protect yourself from it in advance?
These are the questions I do my best to answer in my new daily email – Fortune & Freedom.
Click below to start taking back control of your money:
Start now!
A new email and video will hit your email inbox at 9am every working day.
I'll show you that – sadly – the financial system is rigged against you.
And I'll also show you why you're not hearing about a lot of good opportunities to grow your money, too.
I've teamed up with some of the smartest financial experts in Britain to help give you a true picture of what's going on.
And what you can do about it.
We'll talk to you on the level, in plain English. We won't be hiding behind any of the spin or jargon the financial industry like to dazzle people with.
We're going to show you how tried and trusted assets like gold and silver… and a select group of growing British companies… hold a lot of promise right now.
And we're going to show you how stealth taxes… a ticking pensions time bomb… and a load of faddish investments pose a real threat to unsuspecting investors and savers.
If you care about your money – and who gets to make decisions about it – my new project is for you.
Join me now and we'll do our best to help you come out on the right side, once again.
Get your name down, and we'll kick things off with an exclusive video I have produced about this important new project.
Yes, I want to take back control
of my money
I hope you're up for the fight.
It could be our biggest and most rewarding one yet!

Nigel Farage Founder, Fortune & Freedom
PS The moment you join, you'll gain access to a special set of starter reports we have produced to get you up and on your feet…
Showing you how to take back control of your money… the big opportunities that you won't hear about by the mainstream financial media… and big threats brewing that most won't see coming.
Everything you see below will be yours, right away: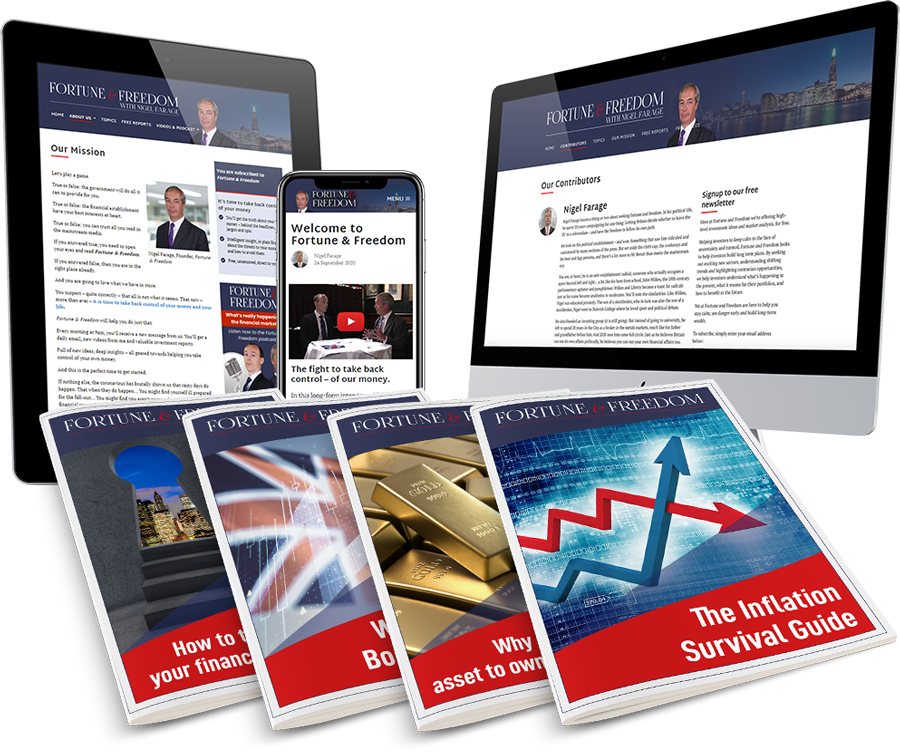 Yes, I want to join Fortune & Freedom
PPS We've been running Fortune & Freedom for a almost a whole year now. More than 70,000 people receive our email every morning. Over that time we've shared insights on everything from inflation, to wealth repression to opportunities in renewable energy, gold and even digital currency. And here's what those who read it think about what we've been doing: