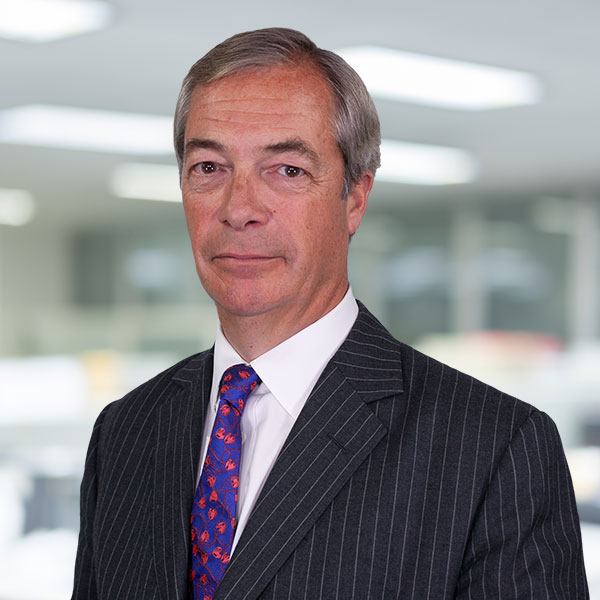 Nigel Farage Founder,Fortune & Freedom
It's time to take control of your money…
Or someone else will.
That's my message to you and every hard-working man and woman in Britain.
Because the truth is, without financial freedom, you're not really free at all, are you?
You may not know it but I used to be a metals trader. In fact, my father worked in the industry, as a broker. As his father did, before him.
So I know the importance of money and what it means to people's lives.
I know that there is nothing more important than having control over your finances.
And I know that many of the people who currently control your money, sadly, do not care about how it all ends up for you.
Worse still, there are dangers brewing within our economy – like the serious trouble brewing in the EU that doesn't make the headlines… real dangers that could have a deep and long-lasting impact on your money.
That is the real financial crisis emerging here in Britain – millions of people have their money controlled by someone else…
Yet you have real ambitions for your money – because it means so much. For you, and your family.
No one is prepared to stand up and show you what is really happening.
Your politicians are too scared to rock the boat.
The financial industry feeds you the same tired lines and old stocks they feed everyone else.
Where does that lead you? Marching into the same financial disappointment as everyone else.
Enough is enough. It's time to take a stand. And that's what I'm doing.
I've started a new project – a new fight – to help you take back control of your money.
It's called Fortune & Freedom… a new, uncensored, daily broadcast directly from me to you.
It's free. It will help you understand the threats to your money no one is telling you about. And it will put you on to new ideas and opportunities to help you grow your wealth, too.
If you care about your money.
And being the one in charge of what happens to it.
I think you're going to love what I'm doing.
Yes, I want to take back control
of my money
To bring you this new daily broadcast, I've teamed up with the only people in the financial world I really trust.
Experts who have been in the business for years and really know their stuff. As you will see, like me, they're not afraid to call out those in power and hold them to account.
Of course, I'll be drawing on my own deep experiences and contacts in the financial and political world, too.
In Fortune & Freedom I'll never tell you what to think.
I'll never try to bamboozle you with jargon, like so often happens.
No, I'll speak to you in plain English that anyone can understand… to give you a true picture of the financial system here in Britain… and give you the insight you need to make your own decisions.
I'll show you how to avoid the threats most people won't see coming until it's too late.
I'll show you the opportunities and ideas to help grow your wealth in a New Britain, unleashed after Brexit.
And I'll show you that winning the referendum was only half our battle...
Our next fight – to win back your financial independence – is just as important. And just as winnable.
Join this fight with me and I think you stand a much better chance of coming out on top.
Are you up for it? I think you are!
If I've pegged you right, you want to think for yourself.
You've had enough of being told what to do.
Join me.
When you do, you'll get a load of valuable material we have put together for you…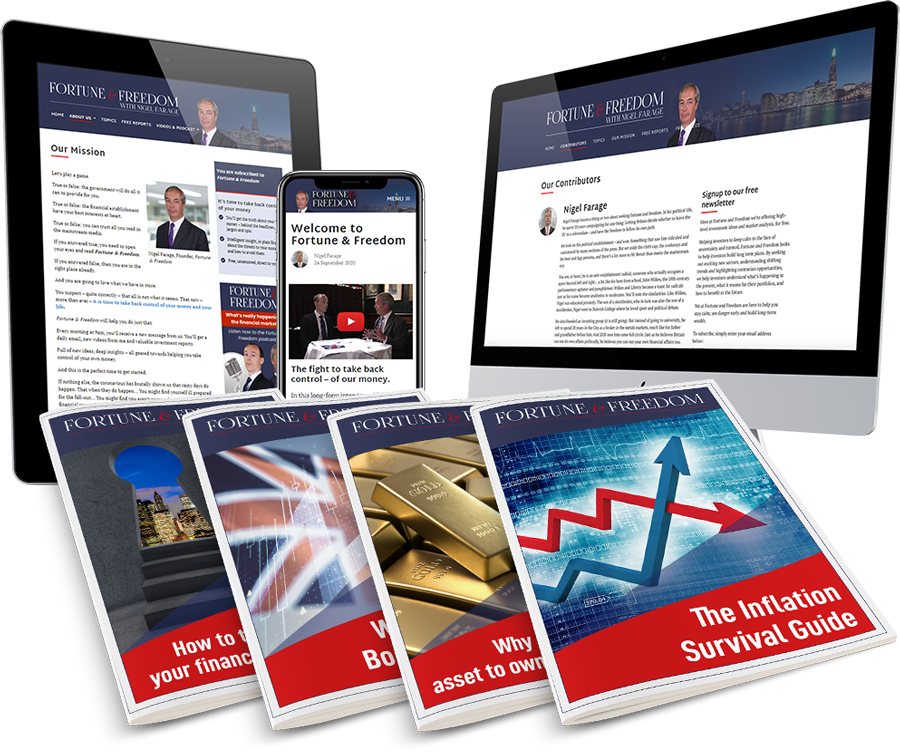 To show you what is really going on with your money… and how you can start taking back control!
Yes, I want to take back control
of my money
Many thanks,

Nigel Farage Founder, Fortune & Freedom
PS When you join, you'll be able to unlock an exclusive video I recorded just for Fortune & Freedom readers. I talk about everything that matters to me – and I believe matters to you too.
I share things about what could be next for Britain after Brexit I have never spoken about before. If you're keen to take advantage of a Britain reborn once we're officially FREE from the disastrous EU experiment… it's essential viewing.
Here's a snippet of that video:
To unlock the full version, simply click the button below.
Join now, unlock the full video
PPS We've been running Fortune & Freedom for a almost a whole year now. More than 70,000 people receive our email every morning. Over that time we've shared insights on everything from inflation, to wealth repression to opportunities in renewable energy, gold and even digital currency. And here's what those who read it think about what we've been doing: